April 14, 2022
Americans are widely divided on the role of public schools in teaching children about issues related to sexuality and racism, according to a new poll from the University of Chicago's Harris School of Public Policy and The Associated Press -NORC Center for Public Affairs Research.
While several state and local governments are considering bills banning teaching about gender identity, 23% of Americans share this view and think their local public school focuses too much on issues related to gender and gender. sexuality. But around a third of the public (31%) believe there is too little focus on these issues.
When it comes to discussing racism in the United States, 37% believe their public schools focus on this topic. Again, the rest of the public is divided with 27% who think their local schools focus too much on racism and 34% who think there is not enough focus.
There are also differing opinions among Americans about who should have influence over the school curriculum. Half of Americans believe that parents and teachers have too little influence over the public school curriculum. Republicans are more likely to think parents have too little influence and Democrats are more likely to think teachers have too little influence. However, there are no significant differences in attitudes regarding the role of parents in the curriculum between parents of children attending K-12 schools and non-parents.
The survey finds that the majority of Democrats and Republicans do not support policies that ban books on divisive topics or prevent teachers from teaching about sex and sexuality. Yet there are strong partisan differences when it comes to allowing transgender students to use bathrooms that match their preferred gender identity or renaming schools named after historical figures who supported the slavery or segregation.
When it comes to COVID-19 precautions in public schools, 43% favor vaccination mandates and 37% favor mask mandates for students attending school in person. However, parents of K-12 students are less likely to support these precautions than those without school-aged children.
While many people disagree with policies surrounding teaching about race and sexuality or administering COVID-19 guidelines, the study shows that few Americans pay close attention to their or engage with local school boards beyond following the news or voting in school board elections.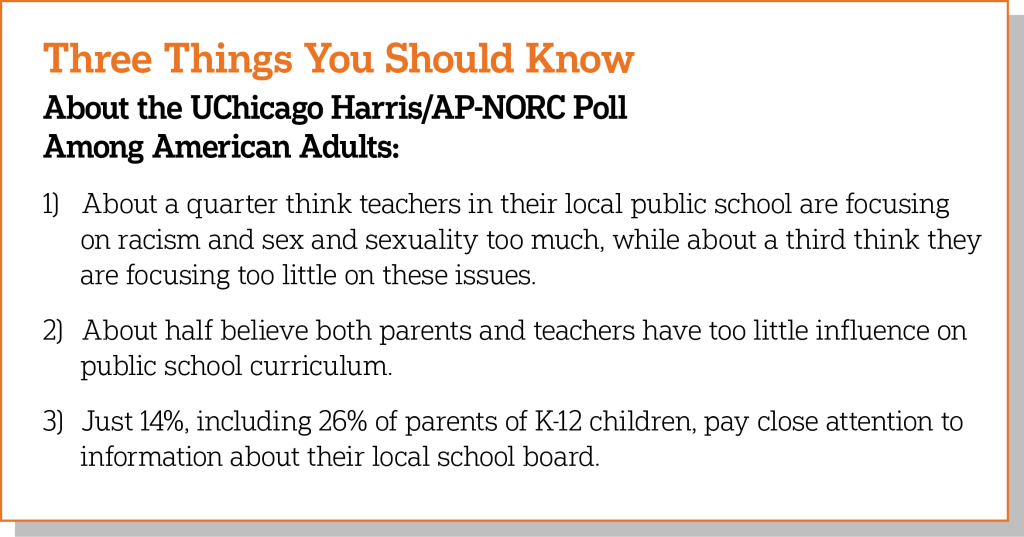 The national poll was conducted by the University of Chicago Harris School of Public Policy and the Associated Press-NORC Center for Public Affairs Research from March 17 to March 21, 2022, using AmeriSpeak®, the panel NORC probabilist at the University of Chicago. Online and telephone interviews using landlines and mobile phones were conducted with 1,030 adults. The margin of sampling error is +/- 4.0 percentage points.
Suggested quote: AP-NORC Public Affairs Research Center. (April 2022). "No public consensus on how schools should discuss sexuality and racism." https://apnorc.org/projects/no-public-consensus-on-how-schools-should-discuss-sexuality-and-racism/